MAAD QSO generator
---
MAAD QSO generator generates synthetic optical QSO spectra with absorptions lines and spectra reflecting the IGM as drawn from Hydrodynamical simulations. It models both the forest (bluewards) and the metal lines (redwards).
It relies on Cloudy to compute the ion density given a set of temperature,

density, ionising flux, and metallicity. The corresponding interpolation tables may be used for other purposes, such as painting metals onto hydro simulations.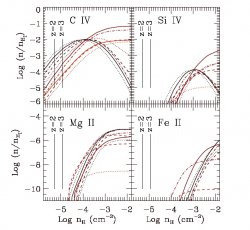 cloudy tables
displays the cloudy tables used to convert hydrdynamical quantities into abundance ratio used for the synthetic spectra
In its present form, it assumes constant metallicity, but could easily be accomodated to include position dependant metallicity. The paper describing the generation of spectra is found here